"There is not always a good guy. Nor is there always a bad one. Most people are somewhere in between."
Title & Author: A Monster Calls, Patrick Ness. 
Release date & publisher: September 27th 2011, Walker Books.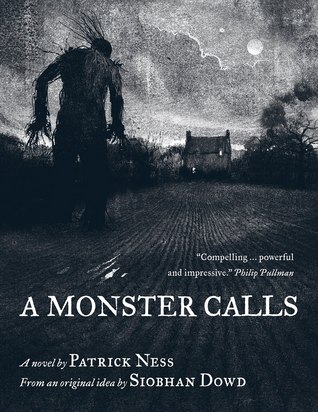 The monster showed up after midnight. As they do.
But it isn't the monster Conor's been expecting. He's been expecting the one from his nightmare, the one he's had nearly every night since his mother started her treatments, the one with the darkness and the wind and the screaming…
This monster is something different, though. Something ancient, something wild. And it wants the most dangerous thing of all from Conor.

It wants the truth.
HERE ARE MY THOUGHTS ON A MONSTER CALLS BY PATRICK NESS…
This book centers around a boy called Conor, who has been having nightmares since his mother began her treatment for Cancer. As well as this Conor's father lives away with his 'new family', he is forced upon his Grandma who doesn't understand him and is being bullied and ignored at school. As the monster comes to visit, you can't help but feel sympathy and fear for Conor who is having to deal with many issues. Through thee anger and pain he is witnessing we still saw patches of dry humour and witty remarks, making Conor endearing.
It's not a happy book, you won't be able to finish this book and feel complete as a person because the situation Patrick Ness is uncomfortable and heartbreaking. It is an important book, you'll learn a load of things from how strong Conor was and the stories the Monster tells.
The book holds a great deal of grief and loss, only intensifying as the story progressed. I think one of the things I enjoyed most about this book was that I had no idea whatsoever where it was going to go. I was in the dark the entire way through.
"Stories are wild creatures, the monster said. When you let them loose, who knows what havoc they might wreak?"
The love and relationships between the characters was written in a very poignant way, making the reader more attached to each of the characters. I felt this was a very important in The Monster Calls because the relationships are the main basis of the story.
Many children and adults should read and appreciate this book, it teaches you a lot. I doubt there will be another Children's book so compelling and heartbreaking. definitely one of the best books I've read for a long time
THE ILLUSTRATIONS.
Congratulations on the amazing job of the illustrations in the Monster Calls, Jim Kay. I have never really7 read a graphic novel type thing, so when I picked this up I was unsure, but oh my goshhhh. The illustrations told the story just as well as the words. I felt this really added something different to The Monster Calls, making it unique from the other books that people like me read, (books with only writing…ONLY WRITING)
THE DEDICATION.
Normally I don't read the author's notes and I only skim the dedication normally but as soon as I started reading it, I couldn't stop. The original idea for this book was created by Siobhan Dowd, she passed away due to cancer before being able to write the book. Patrick Ness really paid tribute to her, which I really appreciated. Patrick Ness certainly did Siobhan justice in the Monster Calls, I couldn't imagine a better book.
A MOVIE?!
Yes, it seems just as every other YA book it is becoming a movie…
The release of this movie is due to be in October 2015, with Lewis MacDougall playing Conor and Liam Neeson as the monster.
I am curious to see how they are choosing to produce this movie, and hopefully it will not lose any of the essence from the book.
More to come, soon!
(by the time this uploads I will be back at school, therefore will be busier… will still be doing many uploads so wish me luck!)
Ellie.