"I leapt eagerly into books. The characters' lives were so much more interesting than the lonely heartbeat of my own."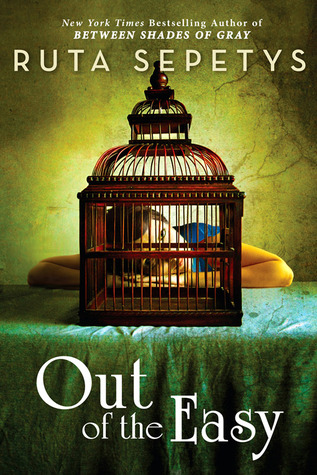 It's 1950, and as the French Quarter of New Orleans simmers with secrets, seventeen-year-old Josie Moraine is silently stirring a pot of her own. Known among locals as the daughter of a brothel prostitute, Josie wants more out of life than the Big Easy has to offer. 
She devises a plan to get out, but a mysterious death in the Quarter leaves Josie tangled in an investigation that will challenge her allegiance to her mother, her conscience, and Willie Woodley, the brusque madam on Conti Street. Josie is caught between the dream of an elite college and a clandestine underworld. New Orleans lures her in her quest for truth, dangling temptation at every turn, and escalating to the ultimate test.
"You like me, Josie Moraine. You just don't know it yet."
I decided to read Out of the Easy because I had read Sepetys' first novel, Between Shades of Grey. At first, I was wary. Though I had enjoyed one historical fiction, did it mean I was going to enjoy another? So I picked this book up as soon I had finished reading the previous one, wanting to close the gap on my Goodreads challenge.
The result was, I say, surprising but it actually wasn't very surprising because you knew what the outcome was going to be all long. 26 pages in and I was hooked. Sepetys takes us through New Orleans in 1950. It's vivacious.
"Tragedy was a big social event, and everyone wanted in on it."
Josie had ambition. And wit. Her character was what made me enjoy this book as much as I did. Street-smart and just smart, the daughter of a prostitute, the daughter of a mother who didn't care at all for her gave her a sob story, sure, but Josie never used it as an excuse. Instead, it made her want to earn everyone's respect and also made her respect everyone else, no matter their circumstances nor background. Her character was admirable, and except from her mother, Josie had good-hearted people around her, all of whom added to the story.
Willie – 'the evil stepmother with the fairy Godmother heart.' Willie was one of my favourite characters in this. Indomitable and sharp, Willie acts as a mother-figure to Josie although she is far from motherly.
"They drink like fish and ask the most probing questions."
"Welcome to the South." Patrick laughed."
Sepetys' style is humble yet knowledgeable. Whilst prostitutes are associated with filth and dirt, and some might very well be, we come to see that it isn't true for all. Good hearts, happy home, unrespected profession which the 'respected' men more than enjoy.
The best thing about this book was that the death wasn't the biggest plot – there were so many things going on. The brothel, Patrick and Charlie, Jesse, college. There is constantly something going on however it was never forced. Patient and steady yet still exciting which kept the pace fast and never wavered.
The minor complaint I had with this was that half way through the book I felt sure that I had read this before so I checked my 'read' shelf, and it turned out that I hadn't read it. It niggled me at the back of my mind when it finally clicked. It was a book that I had read before – Belle by Lesley Pearse.
Rate: ★★★★
-C E L I N E