The last time I did a new releases was February so I thought I should bring you an April New Releases and make this a monthly thing, enjoy.
AN EMBER IN THE ASHES – SABAA TAHIR.
urejwiafklrheiofwe
LAIA is a Scholar living under the iron-fisted rule of the Martial Empire. When her brother is arrested for treason, Laia goes undercover as a slave at the empire's greatest military academy in exchange for assistance from rebel Scholars who claim that they will help to save her brother from execution.
ELIAS is the academy's finest soldier—and secretly, its most unwilling. Elias is considering deserting the military, but before he can, he's ordered to participate in a ruthless contest to choose the next Martial emperor.
When Laia and Elias's paths cross at the academy, they find that their destinies are more intertwined than either could have imagined and that their choices will change the future of the empire itself.
MY THOUGHTS. 
Is it just me or does this remind you of the Lengend series by Marie Lu?
(only to a certain extent)
This book sounds very thrilling and action packed. I would definitely pick up this book and although I'm not a huge fan of the cover, it's not the worst cover I've seen so that wouldn't affect my choice to read it. If you are looking for an exciting dystopian type novel I would think this would be strongly recommended for you.
THE QUEEN OF BRIGHT AND SHINY THINGS – ANN AGUIRRE. 
Sage Czinski is trying really hard to be perfect. If she manages it, people won't peer beyond the surface, or ask hard questions about her past. She's learned to substitute causes for relationships, and it's working just fine… until Shane Cavendish strolls into her math class. He's a little antisocial, a lot beautiful, and everything she never knew she always wanted.
Shane Cavendish just wants to be left alone to play guitar and work on his music. He's got heartbreak and loneliness in his rearview mirror, and this new school represents his last chance. He doesn't expect to be happy; he only wants to graduate and move on. He never counted on a girl like Sage.
But love doesn't mend all broken things, and sometimes life has to fall apart before it can be put back together again…
MY THOUGHTS. 
This is like the typical cliché teen romance, I mean everyone loves that…right? 
I, personally cannot get enough of cliché romance and have a feeling I would love this book if i were to read it.
THE GIRL AT MIDNIGHT – MELISSA GREY 
Beneath the streets of New York City live the Avicen, an ancient race of people with feathers for hair and magic running through their veins. Age-old enchantments keep them hidden from humans. All but one. Echo is a runaway pickpocket who survives by selling stolen treasures on the black market, and the Avicen are the only family she's ever known.
Echo is clever and daring, and at times she can be brash, but above all else she's fiercely loyal. So when a centuries-old war crests on the borders of her home, she decides it's time to act.
Legend has it that there is a way to end the conflict once and for all: find the Firebird, a mythical entity believed to possess power the likes of which the world has never seen. It will be no easy task, but if life as a thief has taught Echo anything, it's how to hunt down what she wants . . . and how to take it.
But some jobs aren't as straightforward as they seem. And this one might just set the world on fire.
MY THOUGHTS. 
The cover reminded me of the books Celine has recently read, and encouraged me to buy (Shadow and Bone). This book sounds very interesting, the kind of book you could lose yourself in for a day or two.
ijeri2ojrojjfeiwjfk[-PHIRJFE
THE GAME OF LOVE AND DEATH – MARTHA BROCKENBROUGH. 
Antony and Cleopatra. Helen of Troy and Paris. Romeo and Juliet. And now . . . Henry and Flora.
For centuries Love and Death have chosen their players. They have set the rules, rolled the dice, and kept close, ready to influence, angling for supremacy. And Death has always won. Always.
Could there ever be one time, one place, one pair whose love would truly tip the balance?
Meet Flora Saudade, an African-American girl who dreams of becoming the next Amelia Earhart by day and sings in the smoky jazz clubs of Seattle by night. Meet Henry Bishop, born a few blocks and a million worlds away, a white boy with his future assured — a wealthy adoptive family in the midst of the Great Depression, a college scholarship, and all the opportunities in the world seemingly available to him.
The players have been chosen. The dice have been rolled. But when human beings make moves of their own, what happens next is anyone's guess.
MY THOUGHTS. 
I wouldn't necessarily read this book, it reminds me too much of the Messenger of Fear by Michael Grant, i think it's "the dice has been rolled" as if it's a kind of game – a totally different plot, I'm aware.
This just doesn't really spark my interest that much, however I really like the cover.
SIMON VS THE HOMOSAPIENS AGENDA – BECKY ALBERTALL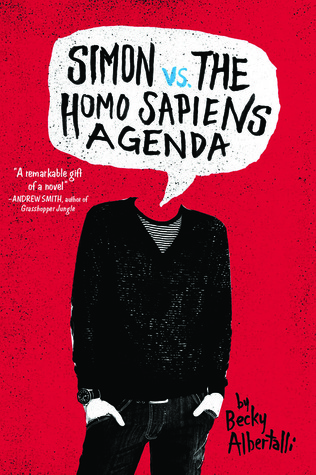 Sixteen-year-old and not-so-openly gay Simon Spier prefers to save his drama for the school musical. But when an email falls into the wrong hands, his secret is at risk of being thrust into the spotlight. Now Simon is actually being blackmailed: if he doesn't play wingman for class clown Martin, his sexual identity will become everyone's business. Worse, the privacy of Blue, the pen name of the boy he's been emailing, will be compromised.
With some messy dynamics emerging in his once tight-knit group of friends, and his email correspondence with Blue growing more flirtatious every day, Simon's junior year has suddenly gotten all kinds of complicated. Now, change-averse Simon has to find a way to step out of his comfort zone before he's pushed out—without alienating his friends, compromising himself, or fumbling a shot at happiness with the most confusing, adorable guy he's never met.
MY THOUGHTS. 
I have actually recently brought this book, although I didn't read the blurb and put my trust in a blogger on booktube, who said it was a very good book to distract yourself with – so I brought it. I will let you know what I thought of it.
THINGS WE KNOW BY HEART – JESSI KIRBY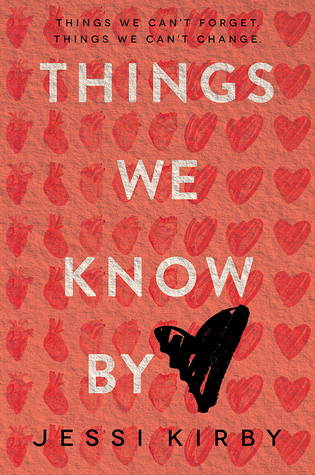 When Quinn Sullivan meets the recipient of her boyfriend's donated heart, the two form an unexpected connection.
After Quinn loses her boyfriend, Trent, in an accident their junior year, she reaches out to the recipients of his donated organs in hopes of picking up the pieces of her now-unrecognizable life. She hears back from some of them, but the person who received Trent's heart has remained silent. The essence of a person, she has always believed, is in the heart. If she finds Trent's, then maybe she can have peace once and for all.
Risking everything in order to finally lay her memories to rest, Quinn goes outside the system to track down nineteen-year-old Colton Thomas—a guy whose life has been forever changed by this priceless gift. But what starts as an accidental run-in quickly develops into more, sparking an undeniable attraction. She doesn't want to give in to it—especially since he has no idea how they're connected—but their time together has made Quinn feel alive again. No matter how hard she's falling for Colton, each beat of his heart reminds her of all she's lost…and all that remains at stake.
MY THOUGHTS. 
I think this book would be a really interesting contemporary book to read, maybe giving you an new outlook on life? I would love to read this book in the near future.
Celine, buy it for me because i am such a good friend **bats eyelashes** pweaaaaseee!
Anyway that's it for today, I hope you enjoyed April's new releases.
Thanks for reading,
Ellie.