"I will strip away all that you know, all that you love, until you have no shelter but mine."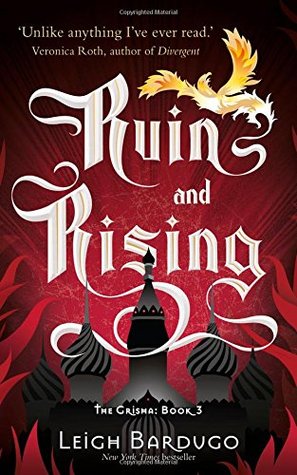 The capital has fallen. 
The Darkling rules Ravka from his shadow throne.
Now the nation's fate rests with a broken Sun Summoner, a disgraced tracker, and the shattered remnants of a once-great magical army.
Deep in an ancient network of tunnels and caverns, a weakened Alina must submit to the dubious protection of the Apparat and the zealots who worship her as a Saint. Yet her plans lie elsewhere, with the hunt for the elusive firebird and the hope that an outlaw prince still survives.
Alina will have to forge new alliances and put aside old rivalries as she and Mal race to find the last of Morozova's amplifiers. But as she begins to unravel the Darkling's secrets, she reveals a past that will forever alter her understanding of the bond they share and the power she wields. The firebird is the one thing that stands between Ravka and destruction—and claiming it could cost Alina the very future she's fighting for.
The third and final book to this beloved trilogy. Everything was pretty damn awesome and dramatic. The plot – exclamation mark, exclamation mark, exclamation mark. Alina!!! The Darkling!!! The revelation!!! The ending!!! The secondary characters!!!
But first of all, I'd like to say that I'm disappointing myself and need to step up my game.
The Goodreads Challenge for 2015.
Goal: 100 books.
Month: March.
On average: 8-9 books per month.
Read: 9.
Books behind schedule: 7.
Ugh.
Anyway, right, RUIN AND RISING.
"Na razrusha'ya. I am not ruined. E'ya razrushost. I am ruination."
Leigh Bardugo, I don't know how she did it, but there was a perfect balance of everything. When reading about Alina & Crew's travels, I thought it was going to drag on forever but it didn't. She knew how to make it exciting and knew when to stop. The descriptions of hidden lakes in secret tunnels were pretty, too. There were also mind-blowing new things the Grisha could do with their power which was super cool but sounded complicated when in fact, it made complete and utter sense.
Alina's character was the epitome of character growth. I mentioned this in my last post as well, but from book one to three…it's like drawing a quarter of an arc, she starts from the bottom, gets her way to the top and just stays there. She can do all sorts of things now, she can perform the Cut as easily as she can breathe, she is capable of leading her own army if she wanted, and she can finally fight the Darkling fairly. Each relationship she has is different. With Mal there is familiarity and affection, with the Darkling there is power and lust, with Nikolai there is humour and fondness.
 "It was something no other Grisha understood, and in the end, it was what bound the Darkling and me most closely—not our powers, not the strangeness of them, not that we were both aberrations, if not abominations. It was our knowledge of the forbidden, our desire for more." 
The Darkling has finally met his match, his equal. I love the idea of her and the Darkling together, light and dark. They both share a desire for power and they both understand each other, wholly. There were times when I desperately longed for them to be together because a) Mal was absent and (sorry I have to say this but) boring, and b) because he is so alluring, and even though I should've been repulsed by him, and wished him dead, I couldn't. He is such a compelling character and his darkness, his dangerousness just adds to the effect (well, obviously).
 I didn't really have much of a difference of opinion on Mal. He's a born leader, what else can I say? Very self-sacrificial, and a bit stubborn at times. Purely good-hearted. Very good fighter, thinker, and the best tracker. I didn't, not like their relationship, but I did think it lacked thrill. But all of that changed in the end. The 'revelation' wasn't a big shock horror and if you really paid attention, you could've predicted it, (I say this, but I did not predict it) but nevertheless, it was ingenious. And the backstory? The backstory I would rate #2 on most interesting things in this book.
 "He watches her the way Harshaw watches fire. Like he'll never have enough of her. Like he's trying to capture what he can before she's gone."
Nikolai. Nikolai remained consistent throughout and never failed to disappoint nor tomake you laugh. His wittiness, his charm, and his dazzling personality go as well as black and everything, and uh can I buy one 'Nikolai' please? He was also so honourable as well, always standing up for the right things no matter who to – the one and only deserving (future) king of Ravka.
The Ending. It's mournfully heartbreaking. And you will get post-book depression.
Their hunt for the third and final amplifier which will decide Ravka's future. If they find it, Alina will be more powerful than ever – can she free Ravka?
★★★★★
-C E L I N E