"I love you," I whispered.
"I've loved you longer," he said."
irhioljwajiho[efwk;ljfkhwepo;
oulkrqmjfhIOJWL;AJHIGI
Title&Author : Sweet Peril by Wendy Higgins
Release Date&Publisher : April 30th 2013, Harper Teen.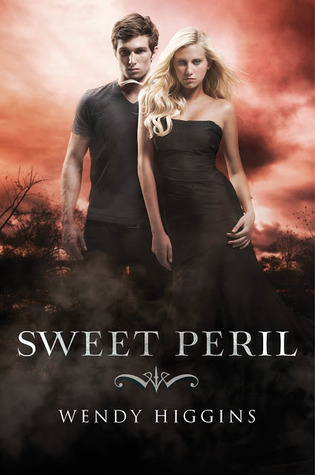 Anna Whitt, the daughter of a guardian angel and a demon, promised herself she'd never do the work of her father—polluting souls. She'd been naive to make such a vow. She'd been naive about a lot of things.
Haunted by demon whisperers, Anna does whatever she can to survive, even if it means embracing her dark side and earning an unwanted reputation as her school's party girl. Her life has never looked more bleak. And all the while there's Kaidan Rowe, son of the Duke of Lust, plaguing her heart and mind.
When an unexpected lost message from the angels surfaces, Anna finds herself traveling the globe with Kopano, son of Wrath, in an attempt to gain support of fellow Nephilim and give them hope for the first time. It soon becomes clear that whatever freedoms Anna and the rest of the Neph are hoping to win will not be gained without a fight. Until then, Anna and Kaidan must put aside the issues between them, overcome the steamiest of temptations yet, and face the ultimate question: is loving someone worth risking their life?
Here are my thoughts on Sweet Peril by Wendy Higgins,
The prologue of this book starts off with the fate faced by two Nephilim who fell in love with each other in the past… let me tell you, it didn't end well. This is Wendy Higgins giving us a heads up about the obstacles Kai and Anna will have to face (if they get that far).
The beginning of this book shows Anna's life months after the last book, she's turned her life around by transforming from the typical 'good girl' to 'party animal' but its all for show, in order to make the demons of the world think she is doing her 'job' by influencing people to do bad things (in her case, alcohol and illegal substances).
She has the demons breathing down her neck the entire time, making sure she is working, this provides a difficulty for her because by doing this is she isn't be true to herself and violating her 'nature', whilst dealing with heartbreak and mixed feelings.
At this moment in time…
I do have to admit I was missing Kaiden. Higgins inserted few, short and snappy scenes in which Kaiden is in, but then disappears for a short amount of time before reappearing. It was antagonizing! I just want Anna and Kaiden to be happy together, is that too much to ask?
Another problem to add to Anna's list,
Kope.
A prophecy is brought to Anna's attention about freeing the Nephilim from the dukes, causing her to go on a trip with Kopano.
HERE COMES THE LOVE TRIANGLE.
UGH
I like Kope, but there's something about him i really do not like. I've put it down to him being too nice, (if that's even a reason to not like somebody) I didn't view him as an important character – maybe not as important as Wendy would have wanted him to be. I just wasn't that fond of him.
The Kope and Anna kiss…
Lets talk about Kaiden Rowe. 
Kaiden Rowe, a.k.a SEX GOD
                                    a.k.a LOVE OF MY LIFE.
He has the ability to make every female in her teens to late twenties (probably even later, 30's, 40's?) to swoon.
The pent up emotions of Anna and Kaiden built up as did the sexual tension, creating hotness overload. 
After reading this book you will be wishing for a Kaiden Rowe and wondering where he is, why has he not found you yet. Your ovaries will be exploding, I can guarantee you that. I'm not joking when I say "Anna and Kaiden made me sweat"… congratulations Wendy Higgins, you have made my life.
BLAKE 
If you were not already in love with Blake, 
1. I don't know what you were thinking.
2. You'll be head over heals infatuated with him by the end of Sweet Peril.
He was just so easy to read about, he had a really easy sense of humor, he really interested me. The description of him put Kaiden at risk of being knocked off the top spot ( no jokes, no exaggeration).  I don't know how else to sell him to you, he was perfect.
"Girl, all you have to do is say the word, and Mr. Lusty McLust a Lot here will be happy to whisper some dirty nothings in your ear."
KHEFOWkljfhoeq;jihfQJO
The characters we loved in Sweet Evil are still hugely present, Ginger (who I wasn't a big fan of in book one) has grown on me, Marna is still as sweet as ever.
I thoroughly enjoyed reading this book and is definitely on my favorites list!
So, for this reason I rate this book;
☆☆☆☆☆/☆☆☆☆☆
(told you I was a fan, haha)
Expect a Sweet Reckoning Review sometime in the near future…
Thanks for reading!
Ellie